The Ultimate Chocolate Cake
/35
I've had a few people ask me for the recipe of the chocolate cake I made for the 200th Boagworld. I wasn't going to post this on my blog because it's not really about web design, but to justify that, I've marked it all up in the (I believe not yet finalised) hrecipe microformat.
Anyway, I hope my mum won't be too upset that I've posted this up here. It's a family recipe that has been perfected over millennia. Possibly.
Here's how to make the ultimate chocolate cake. Unlike most chocolate cake, this isn't at all dry or rich. It's nice and sweet with a soft, gooey texture.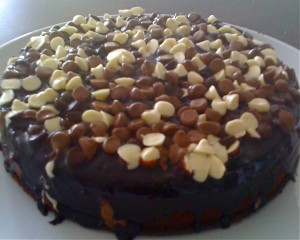 You'll need to make the cake icing after you've taken the cake out and it has cooled a bit. It sets reasonably quickly, but make sure it's not too runny before pouring over the cake.
This quantity is for one 19cm round cake
Duration: 90 mins (Cooking 30 minutes, Baking 1 hour)
Serves 8-12
Ingredients:
The Cake
140

g

self raising flour

170

g

caster sugar

170

g

soft margarine/Stork

85

g

drinking chocolate powder (not cocoa powder)

3

large eggs

42

g

butter

2

tablespoons

water
The Icing
3

tablespoons

of boiling water

55

g

caster sugar

85

g

icing sugar

30

g

cocoa powder

a handful

of mixed chocolate drops (mixture of white, milk and dark)
Preparations:
Grease the cake tin
Preheat the oven to 180C
The Cake
Mix all the ingredients into one bowl. Stir gently until all are combined.
Bake the cake in centre of oven for about 1 hour.
Lick the bowl ;)
Remove the cake from the oven and leave in the tin for 5 minutes.
Remove from the tin and leave to cool.
The Chocolate Fudge Icing
Melt the butter, water and caster sugar gently in a pan until dissolved. Bring to the boil.
Remove from the heat and add sifted icing sugar and cocoa powder.
Mix together and beat with a wooden spoon until smooth, then pour over the cake.
Immediately sprinkle with chocolate drops.