Speaking
Invite me to speak at your event.
£7,500 + VAT for a new talk on a topic we agree on, or £3,500 + VAT for one of my current talks, plus travel and accommodation. Full terms…
Get in touch at anna@maban.co.uk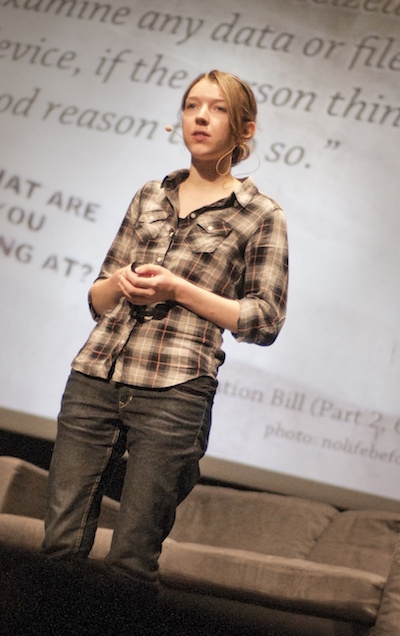 I've given over two dozen talks around the world about the things I'm passionate about. When I give a talk, I try and tailor it to the event, so it's really great if you can tell me a bit about your audience beforehand (Is English their first language? Are they mainly designers/developers? Are they at the start of their careers?).
These are the topics I'm currently speaking about:
I'm highly conscious of the need for conferences and meetups to offer a safe space for speakers and attendees, so I only speak at events that have a published and enforced Code of Conduct.
Upcoming and past events
Smartweb

Bucharest, Romania

Front-End Style Guides

DIBI

Edinburgh, Scotland

Game Console Browsers

Enhance

London, England

Game Console Browsers

SmashingConf

Spain, Barcelona

Game Console Browsers

Fronteers

Netherlands, Amsterdam

Front-end Style Guides

WebExpo Prague

Czech Republic, Prague

Front-end Style Guides

From The Front

Italy, Bologna

Front-end Style Guides

UpFront Conference

England, Manchester

Game Console Browsers

Dot York

England, York

Style Guides

Lean UX London

London, England

Front-end Style Guides

The Web Is

Wales, Cardiff

The Web Is Everywhere

Generate

England, London

What We Can Learn From Game Console Browsers

Mobilism

Netherlands, Amsterdam

Console Browsers, The Ultimate Torture Test

Responsive Day Out

England, Brighton

Playing with Game Console Browsers

Full Frontal

England, Brighton

Exploring the game console browser landscape

Update

England, Brighton

The Digital Native

Computing At School Conference

England, Birmingham

How to hack the web

The Mini Web Conference

England, Staffordshire

Experience from a Web Designer

Heart & Sole

England, Portsmouth

Starting out in the big wide web

Be Bettr

England, London

The state of web education in schools

Mozilla Drumbeat Festival

Spain, Barcelona

The current state of web education in schools

Web Developer Conference 2010

England, Bristol

So you want to be a web developer

London Web Standards

England, London

Web Standards Education

Future of Web Design

England, London

Freelancer Survival Guide

Barcamp London 7

England, London

CSS Nuggets

Tomorrow's Web

England, London

A Teenager's Guide to Freelancing
Workshops
UX Bootcamp

England, London

Prototying in Code

UX Bootcamp

England, London

Prototying in Code