Information for organisers
Some information about me that you might need to help plan your conference
Headshot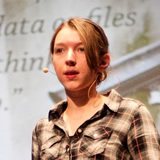 Biography
The shorter version (10 words)
Anna is a product manager and developer based in London.
The longer version (52 words)
Anna is a product manager and developer based in London. She was awarded Young Developer of the Year by Netmag in 2013. She's written a book on Front End Style Guides, and co-hosts a podcast with Brad Frost on Style Guides. When she's not playing on them, she's researching the browsers on game consoles.
My expectations of you
In order to deliver the best experience to attendees, there are a few things I ask of you as an organiser so that I can focus fully on my talk.
First, if I need to travel, you will need to arrange for a visa for me to speak, and also for flights and hotel fees to be paid in advance of the event.
During the talk, I ask that you allow me to use my own computer to control the slides and view my notes. Any footage recorded must not be sold without my permission after the event – this will require a separate agreement. Happy for it to be made available for free under a creative commons license though.
I will invoice you for my fee and any agreed expenses after the event. My invoice terms are 14 days, payable in GBP.
Travel
I live in London, 10 minutes from the Underground, 30 minutes from the Eurostar, and under an hour to the nearest airport, so it's pretty easy for me to get around. I'm also confident using public transport, and usually prefer that to a taxi.
My closest airports
Heathrow
Gatwick
London City
Other stuff
Dietary Requirements
None. I eat everything, and I love trying new things.